Irish ESB is to buy NIE for £1bn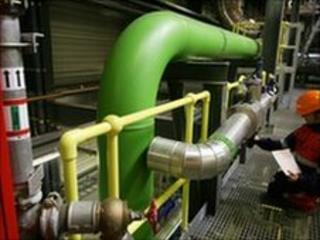 ESB, the main electricity company in the Irish Republic, has confirmed it is to buy Northern Ireland Electricity (NIE) for just over £1bn.
NIE is the transmission and distribution business of Viridian, Northern Ireland's main power company.
A conditional agreement, which should be completed by 2010 has been reached for ESB to acquire NIE's networks business, from Viridian.
The purchase covers NIE's electrical construction and maintenance services.
Energy Minister Arlene Foster said she had already discussed the transaction with the Regulator and the Irish Minister Eamon Ryan.
"I have received assurances from ESB on a range of issues relating to the transaction. These include ESB investment plans, the importance of securing existing jobs, and maintaining the identity of the electricity network business in Northern Ireland.
"I will continue to keep a close watch as the transaction proceeds towards completion, to ensure the interests of electricity consumers in Northern Ireland are being properly considered.''
The NIE Group employs 1,300 staff and is owned by the Viridian Group which runs the generation and supply business Energia, and operates windfarms and the Huntstown power station in north Dublin.
ESB already has a presence in Northern Ireland through the Coolkeeragh power plant near Londonderry.
It is also buying the power generated by the SeaGen tidal turbine in Strangford Lough.
NIE's ultimate owner is Arcapita, a Bahrain-based bank, which bought Viridian in 2006 for more than £1.6bn.
Arcapita reportedly tried to sell Viridian in 2008 though a buyer was not found.
Completion of the transaction is subject to a number of conditions, including conditions relating to Irish and UK competition clearances and notifications and a refinancing of the Viridian Group' debts.
The £1bn deal will see NIE continue to operate under its own brand, but ESB said the link will help both the Irish and Northern Irish governments to hit their policy and environmental objectives in developing renewable generation and smart metering, and ensuring security of supply.
Over the past ten years ESB has spent 6bn euros on refurbishing the Republic's energy infrastructure, and ESB chief executive Padraig McManus said the acquisition shows the company's ambition to expand its business.