Whaling activist Bethune given suspended sentence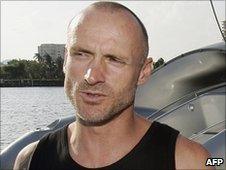 Anti-whaling activist Peter Bethune has been given a two-year prison sentence, suspended for five years, by a Japanese court.
The New Zealander, an ex-member of direct action group Sea Shepherd, faced charges of illegally boarding a whaling ship in the Antarctic in February.
He said he wanted to detain its captain but he was instead taken to Japan, where he was arrested.
He had pleaded guilty to four out of five charges but had denied assault.
Bethune had admitted charges of trespassing, vandalism, possession of a knife and obstructing business.
He was also found guilty of assault, by throwing stink bombs made of butyric acid - rancid butter - at whalers.
His suspended sentence means that he will not be jailed. He is expected to be deported to New Zealand soon.
Large numbers of police officers were on duty outside the court in Tokyo where the verdict was delivered.
A small group of right-wing protesters brandished banners calling for a tough sentence.
Bethune was part of the Sea Shepherd anti-whaling group, which tries each year to block Japan's annual hunt.
He was the captain of the Ady Gil, a speed boat split in two during a clash with the whalers on 6 January.
Bethune said he had boarded the Japanese vessel, the Shonan Maru 2, on 15 February to make a citizen's arrest of the captain.
The whalers instead detained him and took him to Japan to face charges.
Sea Shepherd has since cut its ties with Bethune, saying he defied group policy by taking bows and arrows with him to the Antarctic.
Japan abandoned commercial whaling in 1986 after agreeing to a global moratorium.
But it says that whaling is part of its culture and catches hundreds of whales each year as part of what it calls a scientific research programme.
Conservationists say the whaling is a cover for the sale and consumption of whale meat.
Last month nations failed to agree a compromise deal at the annual meeting of the International Whaling Commission in Morocco.
Under the plan, Japan would phase down its annual Antarctic hunt and in return be assigned a quota for whales in its coastal waters.
Related Internet Links
The BBC is not responsible for the content of external sites.