Italy drivers hit coin 'jackpot' after lorry accident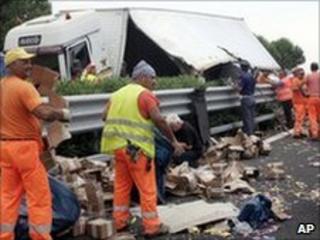 Motorists in southern Italy must have thought they had hit the jackpot after spotting piles of euro coins on a motorway.
A security lorry carrying some two million euros (£1.66m; $2.5m) in one and two-euro coins overturned near Foggia.
The lorry's rear door popped open, shedding the precious cargo.
Before the police arrived, some drivers stopped their cars and made off with at least 10,000 euros.
Police later closed the motorway to try to recover the money.
The incident made the front page of many Italian newspapers.
The lorry, belonging to a security firm, was transporting the coins from Cesena to Bari, distributing money from the Italian mint to banks, reports say.