Aerial attack kills 13 Farc rebels in Colombia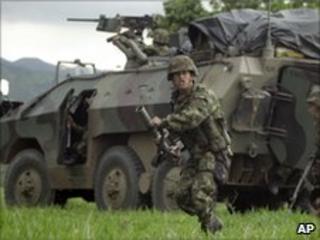 Colombia's armed forced have killed 13 guerrillas - including two leaders - in an air raid, officials say.
The Revolutionary Armed Forces of Colombia (Farc) rebels were trying to retake a strategic mountain area near the Caribbean coast when they were hit.
Intelligence officials said the operation had been ordered by the Farc's number two leader, Ivan Marquez, believed to be in Venezuela.
Colombia's President Alvaro Uribe said the operation was a "message" to him.
Images of the bombardment showed a swathe of jungle flattened and blackened, where the planes of the Colombian air force had bombed a Farc camp in the Montes de Maria area, in the Caribbean province of Bolivar.
The Farc guerrillas were seeking to re-establish their presence in the area, which overlooks the city of Cartagena on the Caribbean coast, officials said.
They said that the rebels had been sent by Ivan Marquez, a member of the Farc's seven-man ruling secretariat, and head of the rebels' International Front, which handles the guerrillas' foreign affairs.
President Alvaro Uribe, who has made a relentless war on the Farc the hallmark of his two administrations, sent a message to the rebel leader Ivan Marquez, whom he described as the "diplomat of terror".
"We know where Ivan Marquez is," the president said, saying that the military operation was "a message to him" and to Farc plans to retake parts of Colombia.
Mr Uribe will stand down in August. His successor, Juan Manuel Santos, has promised to continue Mr Uribe's tough security policy.