£1 drop-off charge at airport begins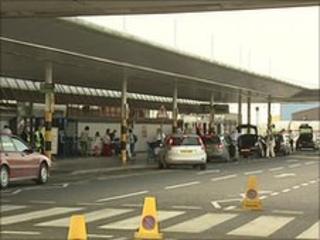 A new £1 charge for dropping off or picking up passengers at Belfast International Airport is now in force.
The charge will only allow motorists to use the new drop-off zone for 10 minutes before they have to park.
The airport said the charge is due to the investment it made in the zone following guidelines issued after the Glasgow Airport bombing.
The Consumer Council said it can be avoided by using a free 10-minute period in the long-stay car park.
Aodhan O'Donnell from the Consumer Council said it was good that customers still had a choice.
"They can pay the £1 to drop off at the front of the car park, or they can have the choice not to pay the charge and still park relatively nearby."
Alliance councillor Oran Keenan said the airport operates as a commercially viable business and on that basis it is a fair charge.
"This is part of their economy of scale and part of their five-10-year plan which is to pay for the renovations it has undergone, improving the services available to people pre and post flight."