Italian farmers protest after 'blue mozzarella' imports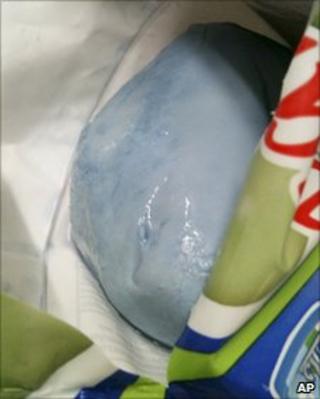 Thousands of Italian farmers have taken part in a demonstration on the Austrian border to protest at the importation of food with Italian-sounding branding.
They say the imports are harming Italy's reputation for quality food.
The protest at the Brenner Pass was sparked by the seizure last month of a batch of mozzarella balls from Germany which turned blue when exposed to air.
The maker of the cheese, Milchwerk Jaeger, has said a harmless bacterium found in groundwater was responsible.
Mozzarella is Italy's favourite cheese, with 60% of people regularly eating it.
Protection
Tuesday's protest took place at the mouth of the Brenner Pass, which runs under the Alps. Italian border police inspected trucks bringing in milk, meat and other items.
The farmers say sub-standard versions of Italy's favourite foods are being imported and that consumers are being misled by the branding.
The row started after police seized of a tonne of Mozzarella balls from Germany which turned blue when taken out of its packaging.
Italy's agriculture minister and the country's main farm lobby, Coldiretti, said they were incensed at the contamination, which they said harmed the reputation of Italy as a quality food-maker.
Although the mozzarella was marked as made in Germany, Milchwerk Jaeger's brands have Italian-sounding names such as Fattorie Torresina, Lovilio and Monteverdi.
Italians have a history of jealously guarding the world-class status of many of their home-grown products.
The buffalo variety of Mozzarella is highly protected under Italian law and makers of Chianti Classico wine have teams of lawyers on the look out for copycats.
Pizzerias in Naples meanwhile recently celebrated a decision by the European Union to grant them a Traditional Speciality Guaranteed (TSG) label in order to discourage imitations.
All these measures are designed to protect the exclusivity of products which, in turn, enable the makers to charge premium prices.