US service sector growth slows in June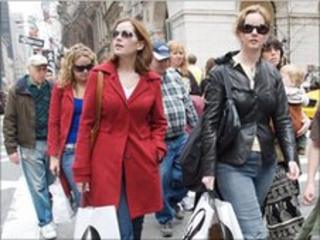 The US service sector grew in June, but at the slowest pace since February, according to a survey by the Institute for Supply Management (ISM).
It was the sixth month in a row that the key component of the US economy expanded.
The report followed a flow of recent economic reports that have raised fears the US recovery is faltering.
The most important, released on Friday, showed a fall of 125,000 in non-farm jobs in the country.
The ISM, a trade group of purchasing executives, said its service sector index fell to 53.8 from 55.4 in May. A reading above 50 indicates expansion in the sector, while a reading below 50 indicates shrinkage.
One analyst, Charles Lieberman, at Advisors Capital Management, told the Reuters news agency that the news did not suggest the US economy was heading back into recession.
"It's consistent with the general tone of data, suggesting that the pace of growth is a little more moderate. It's certainly not suggestive of the double-dip scenario that some people are pushing," he said.
The ISM's data on employment was less positive, however.
That component fell to 49.7 from 50.4, confirming the latest non-farm payroll report on Friday.
Service-oriented jobs include those in hospitals, shops, restaurants, airlines, schools, construction, banks and consulting firms, among others.