'Abusive' PMQs needs reviewing, says Speaker Bercow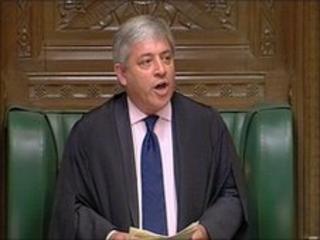 Prime minister's questions should be reviewed to introduce more scrutiny and "less abuse", Commons Speaker John Bercow has said.
He said the weekly half-hour sessions were a "litany of attacks, soundbites and planted questions" and damaged the reputation of the Commons.
In a speech he suggested it be lengthened to 45 or 60 minutes.
Ending "Punch and Judy politics" was a pledge of David Cameron in his Tory leadership campaign.
Three years later he admitted he had failed - and blamed the "adversarial" nature of PMQs.
'Understanding of behaviour'
In his speech to the Centre for Parliamentary Studies, Mr Bercow said PMQs was the "shop window" of the House of Commons - dominating media coverage - and MPs could not afford to ignore the "seriously impaired impression which PMQs has been and is leaving on the electorate".
He said it was his duty to "point out to the House the reputational damage that our present arrangements are inflicting".
Mr Bercow - who became Speaker last year - suggested the prime minister and opposition leader of the day agree a "common understanding of behaviour" among their MPs, enforced by the whips, which would allow the Speaker to operate "the parliamentary equivalent of yellow and red cards... if that were to prove absolutely necessary".
And he said opposition leaders could ask fewer than the current six questions - to give more time to backbenchers.
Or instead he said the session could be extended, suggesting a 45-minute or one-hour session "conducted with mutual respect would be a huge and welcome advance on the status quo".
Mr Bercow also said it was time for a review of how PMQs worked by the Commons Procedure Committee - which could look at whether the session was "the right device for ensuring effective scrutiny" at all.
"The ideal result for the House in my view, would be more scrutiny, more civility, less noise and less abuse masquerading as inquiry," he said.
'Scrutiny by screech'
Tracking the history of PMQs, Mr Bercow said it had gone from "an atmosphere of comparatively cordiality", with short snappy questions, largely from backbenchers, in 1961 to "a litany of attacks, soundbites and planted questions from across the spectrum" in modern times.
While in the 1960s, prime ministers would routinely defer questions which were not their responsibility to the relevant minister, by the time of the last Parliament Mr Bercow said "almost nothing was deemed beyond the personal responsibility of the prime minister of the day".
Many of the questions now asked were not questions at all and party leaders dominated questions, he said, adding: "If it is scrutiny at all, then it is scrutiny by screech."
Mr Bercow looked at changes to PMQs over the decades - from the decision to limit questions to Tuesdays and Thursdays in 1953 - to Tony Blair's decision to make it a once-weekly, 30-minute session in 1997.
He noted that one of his predecessors, Speaker Selwyn Lloyd, had believed personal animosity between Harold Wilson and Ted Heath had begun to "poison" PMQs exchanges and it was then that the practice of government backbenchers inviting prime ministers to attack their opponents began.
But he noted that the "highly polarised nature of politics in the 1980s was reproduced in the decibel level experienced in the Chamber".