Economic problems 'enormous' Executive told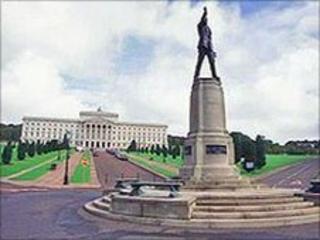 A cross-party review group is be set up in a bid to find a way out of the economic crisis facing the Executive.
News of the group emerged at a ministers' away day at Greenmount Agricultural College outside Antrim.
It is understood ministers were given the full economic and fiscal context of what is happening.
Official sources told the BBC the problems facing the Executive are enormous and on a scale people in NI are "simply not aware of".
Meanwhile, Health Minister Michael McGimpsey has denied snubbing his Executive colleagues by staying a relatively short time at the "away day" to discuss future funding.
Speaking after he opened a new phase of development at Altnagelvin Hospital the health minister said the Executive get together was business-like.
He said he was there for the main presentation at Greenmount but had to be at Altnagelvin for a very important engagement and to meet senior health service staff.
Mr McGimpsey said there was a lot of politics being played around future funding and health was too important to be brought into that.
He said the public had stated time and time again that health was the number one priority. He was adamant that health service funding needed to be ring-fenced.