Almost half of NI Housing Associations 'unacceptable'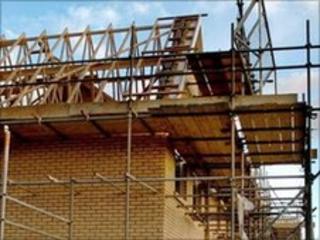 The performance of 14 out of Northern Ireland's 33 housing associations is "unacceptable", the Audit Office has found.
Six were told by the government spending watchdog they could not apply for grants to fund new schemes.
The bodies took over from the Housing Executive the role of building and maintaining social housing projects.
Last year, they received £155m from the Department of Social Development to deliver house-building targets.
Four areas were scrutinised including finance, corporate governance, property management and property development.
A funding applications bar was imposed on three associations; Woodvale and Shankill, the Students' Housing Association Co-Op and Dungannon.
Sanctions were also applied following further inspections to another three associations; Ballynafeigh, Rural and Habinteg.
The Audit Office said it was concerned that so many associations had fallen into the unacceptable category.
It said this suggested there were significant problems with the Housing Association sector in Northern Ireland.
One of the areas where there was a high level of underachievement was in property maintenance.
Reserves
BBC NI business correspondent Kevin Magee added that the 14 housing associations controlled cash reserves of £22m between them, ranging from £250,000 to just under £6m.
The cash reserves of all 33 associations totals about £130m.
Our correspondent added that while some point to long-term maintenance projects, others would ask whether the reserves were excessive in the current climate.
"It is not far off the £155m they were given in totality last year for the house building programme so some will ask why they are not building more houses at a time of social need for housing," our correspondent said.
Ian Elliott from the Northern Ireland Federation of Housing Associations said that all associations criticised had drawn up action plans.
He added that almost all the issues identified had been "quickly resolved" with "acceptable" ratings now awarded.
"Under property development, it should be acknowledged that in 2009-10, housing assocations over-performed in providing new homes," Mr Elliott added.
He also said that the notion housing associations were sitting on "nest eggs" was misguided.
"This is prudent financial judgment as required by government to plan for meeting future housing needs," he said.
"This includes property acquisition and stock improvement to maintain the high standards and quality of the assets."