Sacked Sharon Shoesmith tells of 'distress' for Baby P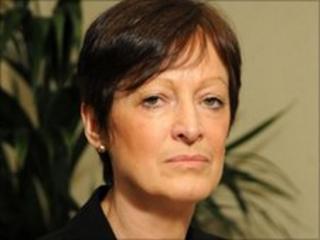 The former head of Haringey social services who was sacked after a report into Baby Peter's death has said the media did not report her "distress".
Sharon Shoesmith said the toddler's death had "absolutely devastated" her.
But the media reports gave a "very callous twist" to the story which led to her being "abused across the world".
She criticised the government's plan to publish serious case reviews into child abuse cases, saying it could show that agencies "run for cover".
Ms Shoesmith was sacked in December 2008 by the council, following a damning report by Ofsted inspectors after the death of 17-month-old Peter Connelly at the hands of his mother and her boyfriend in August 2007.
She went to the High Court claiming she was unlawfully fired, but the claim was rejected.
'The Baby P effect'
Speaking at a seminar on child protection in London, Ms Shoesmith said: "What happened to Peter Connelly was absolutely devastating and I can tell you that there was never any question about me not feeling sorry or distressed about what happened to that little boy, never any question at all about what happened while I was director of one of the services that was there to protect him.
"But for the world to have been given - and I mean the world, because I was abused across the world - to have been given a different impression by some elements of the media was a very callous twist in the story."
She praised the "perseverance and commitment" of social workers, who faced a hostile public reaction and hoped the "whole story" would "eventually be told".
She also criticised the plan to publish serious case reviews of high profile child abuse cases, as it could exacerbate the "grubby reality" that agencies involved "run for cover" when things go wrong.
"The publication then of serious case reviews might make them run even faster, we do not know yet, or it might simply make them obscure the story from their particular perspective that they might want to put forward."
She said the rise in the number of children being taken into care was not 'the Baby P effect', but down to the impact of the reaction of politicians and other senior leaders.
"What I am surprised about was, were they so naive?"
Baby Peter was seen 60 times by social workers, doctors and police over the eight months before his death.
His mother Tracey Connelly, her partner Steven Barker and lodger Jason Owen were convicted and jailed for causing or allowing the toddler's death.
Connelly was jailed indefinitely with a minimum of five years, Barker was jailed for 12 years and Owen for three years.