Child asylum seekers care costs revealed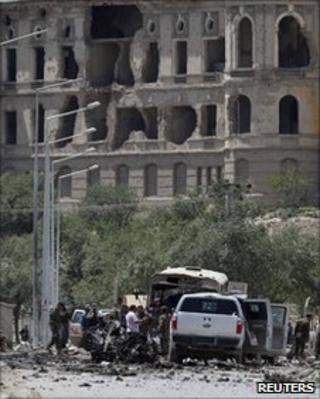 Local authorities in southern England have spent more than £10m caring for child asylum seekers over the past two years, a BBC investigation has found.
Figures show more than 340 children under 18, who entered the UK alone, are currently in council care in the region. Over half are from Afghanistan.
West Sussex County Council, which has 55 child asylum seekers, said it "does its best" for the children despite "tight expenditure". It cost the council £5m over two years, with £4m contributed by the Home Office.
The Home Office either contributes to the cost of supporting young asylum seekers in care or foots the total bill.
Councillor Pete Bradbury, West Sussex's cabinet member for children and families, told BBC News: "If you were a parent who felt desperate enough to embark your child off on a journey to a foreign country, not knowing how they were going to land, you would want your child to be treated with some respect and dignity."
'My friends died'
Home Office figures from March this year show there are about 4,200 unaccompanied child asylum seekers in Britain who are supported by local authorities.
Of the 405 children claiming asylum in the first three months of 2010, 175 were Afghans.
Hugh Ind, the UK Border Agency's strategic director for protection, said the agency worked with councils to ensure they receive the correct levels of funding.
"In 2008/9 we paid nearly £140m to councils," he added.
BBC South Home Affairs Correspondent Damon Embling spoke to child asylum seeker Jawad who lost some of his friends during a difficult journey to the UK in search of a better quality of life.
Jawad said: "I know lots of boys who came here by lorry and boats. Four of my friends died [trying to get here].
"There are lots of children who want come here but they do not have the money so they get it from someone else, come here for [an] education [and then] work to pay them back."
He said it costs about £10,000 for a child to get to the UK from Afghanistan.
The UK Border Agency is planning a £4m "reintegration centre" in Afghanistan so that failed Afghan child asylum seekers can be returned home. The goal would be to assist 12 boys a month, aged 16 and 17, and 120 adults.
The Refugee Council has said there were "serious questions" about how the UK plan would work because of the children's safety.
Meanwhile, Lynne Chitty, Hampshire-based consultant on child trafficking, has concerns about how the children arrived in the UK.
She said: "Children under the age of 18 cannot be smuggled into the UK. They can't give their own agreement to leaving their home country, travelling to a foreign country and then doing whatever happens to them when they're here, so we believe all children up to the age of 18 are trafficked."
And Dr Nooralhaq Nasimi, head of the Afghanistan and Central Asian Association, said: "We believe that it would be incompatible with the European Convention on Human Rights to send [an] unaccompanied minor back to Afghanistan."