India mango farmers angry at dump plan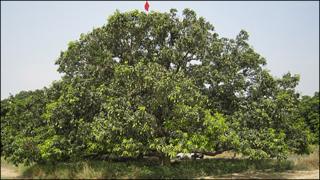 Farmers in northern India are angry over plans to establish a huge rubbish dump nearby one of the country's most famous mango plantations.
They say the planned dump in the state of Uttar Pradesh will mean that 300 trucks a day will pass through the village of Dasheri.
The village is home to the world famous Dasheri mango and allegedly has India's oldest mango tree.
Mangoes from this area near the state capital Lucknow are exported worldwide.
Noxious gasses
They are reputed to be the tastiest in India and are the main source of income for thousands of farmers in this region.
The plans have been put forward even though last year the whole of the region was declared a "fruit belt" to protect mango trees from brick kilns and other hazardous industries.
Unions have now organised a protest against local government plans to go ahead with the landfill site, which will consist of 90 acres of land close to Dasheri village.
"We will not allow the government to acquire our fertile land and mango trees to build a solid waste management plant," said local union leader Harinam Singh.
The protesters say that pollution caused by lorries dumping rubbish combined with noxious gasses from the dump itself will harm mango crops and cause them respiratory difficulties.
They say that the air quality will be so poor that the country's oldest mango tree - believed to be nearly 300 years old and referred to as a "mother plant" by experts - will be threatened.
Dasheri village panchayat (council) Jaswant Singh said: "The government should build the garbage dump on some other waste land.
"We will not give our fertile land for this purpose. We have the original mother plant of the Dasheri mango and we are not willing to give our land up at any cost."
The villagers have pledged to hold a series of demonstrations against the plans outside the offices of the Lucknow Development Authority which selected the village for a "modern, solid waste management plant".
The state government has issued a public notice to acquire the 90 acres near Dasheri and two other nearby villages.
Most of the waste will come from Lucknow city.
Lucknow Mayor Dinesh Sharma argued that the decision to acquire land near Dasheri was taken by the state's Bahujan Samaj Party-government led by Ms Mayawati.
Mr Sharma said that the municipal corporation "has not been taken into confidence on this issue".
He has written letters to the government to reconsider its decision and shift the garbage dump to some other location.