RCN in Wales warns of 2,000 job losses due to cutbacks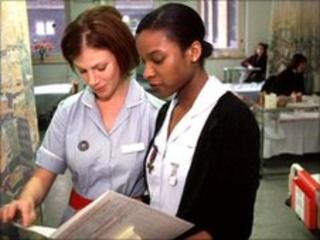 Two thousand nursing jobs could be lost in the next three years as a result of cutbacks, says a nurses' union.
The Royal College of Nursing (RCN) said plans to reduce costs in the Welsh NHS should be focused on cuts in management rather than on frontline jobs.
The assembly government has told health boards to cut staff by 3% a year for three years, shifting the balance from higher paid to lower paid staff.
A spokesman said any assumptions on cutbacks were "purely speculative".
The RCN in Wales said it was researching exactly what cuts and downgrading were being planned in each region of Wales.
It said more than 600 nursing jobs per year for the next three years were under threat as a result of the health sector's share of public spending cutbacks.
It called for Local Health Boards (LHBs) to commit to protecting frontline clinical posts and pointed to a "concerning" discrepancy between the spend on clinical and managerial posts.
The NHS currently spent over £65m on management in the higher pay bands in comparison to the £31m which is spent on nursing staff within the same pay grades, it said.
Tina Donnelly, director of the RCN in Wales, said nurses were realistic about the need to make efficiency savings in the NHS.
But she added: "Spending an excess of £34m on managers is extravagant and unaffordable. The extra £34m would provide an additional 1,000 nurses across Wales.
"It is essential that we protect patient safety by protecting frontline services rather than just imposing cuts.
"Today we challenge all Local Health Boards in Wales to consider the impact on patient care of these potential job losses."
In a bid to help the NHS meet financial challenges while also maintaining and improving care, the RCN said it was launching its Frontline First campaign.
Through the campaign website nurses from across the UK would be asked to come forward with examples of where cuts, waste and innovation are taking place in the NHS.
Lisa Turnbull of the RCN in Wales said: "If you make efficiency savings by cutting nursing jobs, you're actually putting patient safety at risk.
"We are not saying managers are not important. They're extremely important. You need the right people at that level."
A Welsh Assembly Government spokesman said investment in nursing had increased in recent years to 43% of the NHS workforce.
Management costs ran at 4.2% and were planned to be reduced to less than 4%.
"Any assumptions on reductions in resources are purely speculative until the comprehensive spending review in the autumn," said the spokesman.
Jonathan Davies of the Welsh NHS Confederation said NHS organisations had worked extremely hard in recent years to ensure that management costs were kept to a minimum.
"The scale of the financial challenge means that plans to reduce costs and improve services must take into account spending across the whole of the NHS," he said.
"The involvement of every member of NHS staff will be needed to meet the challenge of providing higher quality services at a lower cost. "