Redditch body-in-bin killer has appeal rejected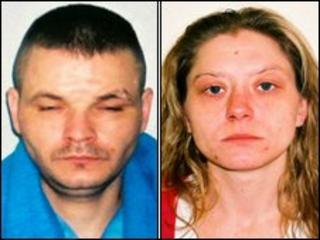 A woman who murdered a teenager with her drug dealer boyfriend and dumped his body in a recycling bin has had her appeal against her conviction thrown out by the Court of Appeal.
Amanda June Allden, 30, of Bromsgrove, was jailed for 15 years at Worcester Crown Court in May 2009 for killing 17-year-old Nathan Lyons.
Her boyfriend, Scott Hancox 35, was jailed for 17 years for the killing at his Redditch flat.
They killed Nathan in a row over drugs.
Allden argued her conviction was unsafe because evidence that Hancox was a schizophrenic, who was likely to have murdered Nathan himself, had been ruled inadmissible at their trial.
Battered to death
Lord Justice Toulson, sitting with Mr Justice Maddison and Mr Justice Hickinbotham, heard Nathan had been working for a Birmingham gang which supplied drugs to Hancox and Allden.
He was sent to make sure that the pair sold the drugs instead of taking them themselves but was battered to death and dumped in April 2008.
His body was found in a recycling depot in London the following month and Allden turned herself into police after seeing a report on television.
"At their trial they ran cut-throat defences, with Hancox claiming Allden committed the murder and she vice versa," added the judge.
The panel dismissed Alden's appeal, saying the evidence came from as far back as 2003.
An appeal that Allden's 15-year minimum was "manifestly excessive" for her crime, because of her early guilty plea, was also refused by the judges.