Threatened Bray almshouses saved after campaign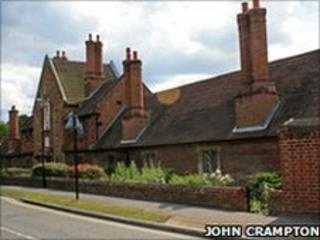 A campaign to save threatened almshouses in a Berkshire village from developers has been successful.
Residents faced eviction from their homes at Jesus Hospital in Bray, under plans to transfer the site to a charity which wanted to sell it.
But following a campaign to save the Grade I listed building, trustee Guild of Fishmongers has now transferred them to the Donnington Hospital Trust.
Jesus Hospital has housed "the poor and aged" of the parish since 1627.
Donnington Hospital Trust, a 600-year-old charity dedicated to running almshouses in Berkshire and Oxfordshire, will now manage the homes and residents will not have to move.
Apartment block plan
The Guild of Fishmongers had originally wanted to transfer responsibility for the red-brick complex to Bristol Charities, which intended to sell the building and land to developers to fund a multi-storey apartment block in nearby Maidenhead to house elderly people.
Under the plans residents of the almshouses would have been moved there.
The Grade I listed building and six acres of land are valued at about £7m.
Villagers feared the 382-year-old building could be converted into an exclusive hotel and restaurant or expensive housing.
Sir Michael Parkinson, who lives in the village, is a patron of the Save Jesus Hospital campaign group.
As almspeople, the residents of Jesus Hospital occupy the properties under licence and have no rights under housing law.