Gala Fairydean football pitch rabbit cull agreed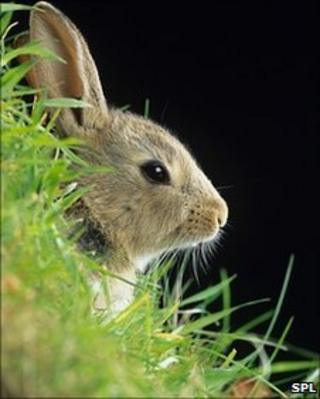 A non-league football team in the Scottish Borders has been given support to cull rabbits which have been digging up its pitch.
Officials at Gala Fairydean claim new holes are appearing in their playing surface every week.
Work had been due to start on an artificial surface at their Netherdale ground but that has been delayed.
Scottish Borders Council has now agreed to meet the costs of pest control measures at the club.
Joss Ritchie, chairman of the East of Scotland League side, said: "It is like Watership Down when you go down to the ground at dusk - the rabbits are everywhere.
"We have enough problems with our pitch without this.
"Every week there seem to be more holes and it has reached the stage where something has to be done."
Workmen were due at Netherdale this summer to dig up Gala Fairydean's turf to lay a 3G artificial pitch.
'Lot of work'
However, problems with legal agreements have led to the project being delayed for a season.
It left officials with a race against time to bring their current playing surface up to league standard before August.
Mr Ritchie added: "We hadn't done any work on our pitch as we thought it was being dug up.
"It needs a lot of work and the first thing will be to get rid of the rabbits.
"We have approached our partners on the 3G group and they agreed to help us."
Scottish Borders Council has agreed to help with the groundworks and also employ an exterminator.
Stuart Wilson, the council's assistant parks manager, said: "We are aerating the pitch with our soil reliever, and Gala Fairydean are supplying grass seed, which we will spread.
"Monarch Pest Control has been called in to deal with the rabbits at a cost of £700, to be met by SBC's sport and recreation department."