EU imposes flight ban on Iran Air over safety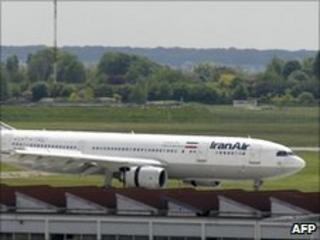 Most of Iran Air's jets will be banned from flying to the EU because of safety concerns, the European Commission says.
The ban affects Airbus A320, Boeing 727 and 747 jets - two-thirds of Iran Air's fleet.
The Commission said the ban was on safety grounds, and was not related to sanctions imposed on Iran because of its nuclear programme.
Iran has denied a claim that its planes are being prevented from refuelling at some foreign airports.
Earlier an Iranian aviation official had accused the UK, Germany and the United Arab Emirates of refusing to supply fuel for Iranian airliners.
But a foreign ministry spokesman said on Tuesday that "no such limitation has been imposed". And the UK, Germany and UAE all denied the claim.
Last week the US approved new sanctions on Iran over its nuclear programme.
Tehran says its nuclear industry is for peaceful purposes, but Western powers fear it is trying to develop a bomb.
A US ban on spare parts for Iranian jets has hit Iran Air's maintenance operation, the Associated Press news agency reports.
On its updated blacklist of airlines banned from the EU the Commission now includes Blue Wing Airlines from Suriname.
Two Indonesian airlines - Metro Batavia and Indonesia Air Asia - were removed from the list.