Pc 'felt numb' after Uckfield fatal sports car crash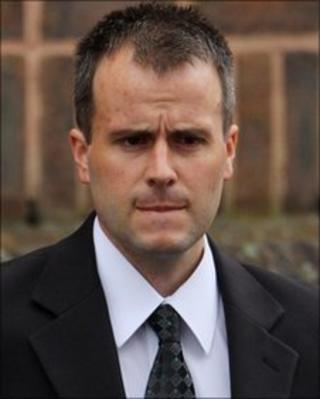 A Sussex police officer said he felt "numb" after learning a young man had been killed after he careered into him in his sports car.
Off-duty Pc Stewart Chalmers, 31, lost control of his vehicle on an icy stretch of the A26 near Uckfield.
Maidstone Crown Court heard Luke Bland, 20, of Uckfield, died when he was struck by Chalmers's car and thrown into the air.
Pc Chalmers denies causing death by careless driving on 14 February 2009.
Asked by defence counsel David Jubb how he felt after learning someone had died, Chalmers replied: "I can't really describe it to be honest. I think I said numb.
"I had been moved into an ambulance, then for some reason they wanted to move me to another ambulance and at that point I could see a body under a blanket.
"It knocked the wind out of me to be honest."
'Completely unexpected'
Pc Chalmers was heading home to Uckfield following a shift at the road policing unit at Hove.
He said he was possibly doing 55mph on the 50mph limit road in his high-powered Lotus Exige.
The traffic officer said he had seen the glow of headlights on the country road moments before the crash, believing them to be from an oncoming vehicle.
The court was told he was aware of "some movement" of a pedestrian on the pavement when suddenly his car started to skid.
He said: "It was completely unexpected. I slid roughly half-way across the road and I was sliding down at an angle.
Pc Chalmers said he attempted to steer out of the skid and added: "At the time I tried to correct it, I realised that I was on course with the other car.
"I was still under the impression it was moving."
In fact, jurors have heard the car - a Peugeot 206 - had left the rural unlit road earlier on a bend and gone into a hedge outside a cottage.
Standing at the roadside were a group of people, including Mr Bland and the Peugeot's driver, Ben Blackford, who were struck by Pc Chalmers's car.
The trial continues.