Dig in appeal over new woodland near Stranraer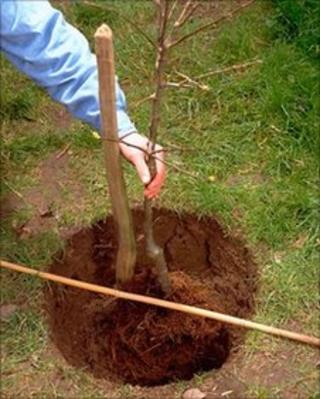 An appeal has been made for public help to plant some of the 100,000 trees being used to create a community woodland.
A volunteer day is being held at Gallowhill Farm in Stranraer on Saturday.
Forestry Commission Scotland bought land last year near the town's King George Park to turn part of it into a new woodland for local residents.
A spokesman said everyone would be welcome to help with the planting.
More than 100,000 saplings of mixed varieties are to be planted in order to create the woodland.
About 4,000 tonnes of stone have already been delivered to the site and a path network is being built around the forest.
Future plans for the project also include finding funding for bat, bird and mammal boxes and stone features.
The FCS is also considering buying the former farm buildings at Gallowhill farm to redevelop them for community use.
One of the key reasons for purchasing the woodland was to help "improve healthy lifestyles".
The FCS said it could encourage people in urban areas to "get active by walking, cycling or simply de-stressing in the great outdoors".