Scottish nursing union gives cuts warning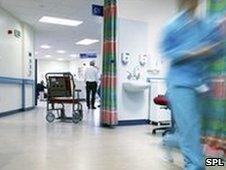 The Royal College of Nursing has launched a campaign to protect nurses from cuts in the NHS.
RCN Scotland said health boards must make total savings of at least £250m next year to break even.
The Scottish government has already announced that 1,500 nursing and midwifery posts will be lost across the 14 health boards in the coming year.
Health Secretary Nicola Sturgeon said NHS funding had risen despite a £500m cut in the Scottish budget.
The RCN said the increase was "marginal" and not enough to cover increasing costs in areas such as wages and prescriptions.
Norman Provan, associate director of RCN Scotland, said there was a "gulf between rhetoric and reality" when politicians talked about NHS savings.
"That is why we have used information from a range of publicly available sources to establish just how severe the problem is that health boards across Scotland are facing," he said.
"This reveals that health boards need to save a total of at least £250m this financial year, in addition to 2% efficiency savings, just to break even."
The figures are part of the RCN's UK-wide Frontline First campaign, which aims to show nurses and the public how much money their health board needs to save to break even.
They also show how many posts - including nursing posts - are set to be lost over the next financial year.
The figures suggested that NHS Greater Glasgow and Clyde had to make the biggest savings - £54m - to break even.
The board has also projected a reduction of 553 whole-time equivalent nursing and midwifery posts for the coming year, alongside a reduction of the equivalent of an additional 700 non-nursing posts.
NHS Grampian must make total savings of £34m and expects to lose the equivalent of 577 full-time posts, including 188 nursing positions.
While NHS Lothian and Borders needs to save £31m and lose the equivalent of 734 posts, including 333 nursing posts.
All of the other health boards need to make savings ranging from £1.4m in Shetland to £30m in Tayside and £26m in Forth Valley.
However, NHS Orkney expected to increase its number of full-time equivalent nursing posts by one and non-nursing posts by six in the coming year.
And both NHS Western Isles and NHS Lanarkshire expect their number of nursing posts to remain the same - although there will be a reduction of 123 non-nursing posts in Lanarkshire.
RCN Scotland said the 14 health boards were proposing to cut a total of 3,739 whole-time equivalent nursing and non-nursing posts.
Whole-time equivalent figures adjust headcount staff figures to take account of part time staff.
The union said the figures came from Scottish government information on revenue allocations for 2010/11, as well as data on planned cost savings supplied by NHS boards to the Scottish Parliament's health and sport committee.
The health secretary said: "As part of their workforce planning processes, boards have considered their future service delivery and workforce needs.
"However, I have made clear that ensuring a quality service for patients must be at the centre of these plans and I have also given a guarantee that there will be no compulsory redundancies.
"I'm also confident that by the end of this parliamentary session there will be more staff in the NHS than there were at the start of it."
Related Internet Links
The BBC is not responsible for the content of external sites.