Police 'amateurish' in missing woman case says coroner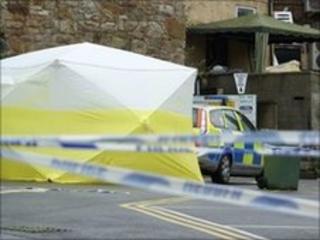 North Wales Police failed in their duty whilst looking for a missing woman who was later found dead, the Independent Police Complaints Commission (IPCC) says.
An inquest in Caernarfon heard Brita Burns, 39, died from hypothermia - she had taken a cocktail of alcohol, antidepressants and pain killers.
The coroner said the force had dealt with the search in an "amateurish" way.
The force said it had made improvements.
The inquest heard that Ms Burns had called her daughter with a detailed description of where she was, but the police search was not sufficiently organised to find her.
Coroner Dewi Pritchard Jones returned a narrative verdict.
He said that "the whole thing was dealt with in an amateurish way".
"Someone asked the question earlier in this hearing why the police didn't simply ring her mobile phone to help them find her," he said.
"There seems to have been no organised searching."
Mr Pritchard Jones said officers did make "lots of effort, but that effort was not properly organised".
He said the sergeant and his colleague, who should have been in charge of the search, simply drove around.
"We have mountain rescue teams and search dogs available in north Wales, but there was a general lack of organisation and a lack of leadership," he said.
Human Rights Act
He added: "Under the Human Rights Act the state has a duty to prevent death... in this case the actions of the state were inadequate."
Following the inquest the IPCC released its report on the matter.
It said the IPCC had found "both individual and corporate failure, with officers failing in their duties and deficient force procedures and policies".
Ms Burns' daughter had rung the police at about 0140 BST on Friday, 17 July expressing concerns about her mother's welfare, and giving police details of the area where she believed Ms Burns was located.
She told the police she had received a telephone call from her mother who was in the town centre, and that she had taken paracetamol and sleeping tablets.
'Poor procedures'
She said she was near Pete's Laundry and the Poundstretcher shop.
At about 1300 BST on the same day the owner of Pete's Laundry telephoned the police to say a member of the public had found the body of a woman in the bushes near his premises.
The body was identified as that of Brita Burns.
IPCC Commissioner Rebecca Marsh expressed sympathy on behalf of herself and the IPCC Commissioner for Wales, Tom Davies, for Ms Burns' family and friends.
"The actions of North Wales Police in finding Brita were very poor and following our investigation two sergeants have been found to have fallen below the required standard, and received words of advice," she said.
"An inspector also faced a misconduct meeting but the force found the conduct unproven."
The commissioner said the IPCC had found the force policies, training and procedures were "poor" and has made 11 recommendations for improvements.
"The cause of Brita's death, as outlined by the pathologist and coroner suggest that Brita was alive for some time after she last consumed alcohol, and could have been found alive," she said.
Ms Marsh added that police failures mean that it would never be know whether Ms Burns' life could have been saved.
Officer training
The IPCC investigation raised issues about radio communications, briefings, record-keeping, resources and officer training.
"A detailed response has been received from the force setting out how they intend to take forward the recommendations we have made, and I know that Commissioner Tom Davies will be following this up over the coming months," she added.
North Wales Police's Assistant Chief Constable Gareth Pritchard said: "Since Brita Burns' death we have worked with the IPCC and have set up a working group, in Force, chaired by myself, to review our procedures, take on board recommendations from the IPCC report to learn the lessons from Ms Burns' death.
"Many improvements have been made into the way we handle missing from home inquiries and we continue to review how we deal with these cases."