Grievances lodged at Isle of Man's Tynwald Day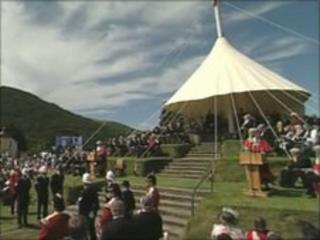 Three petitions were handed in at this year's Tynwald Day ceremony.
Manx residents have the right to submit Petitions for Redress of Grievance at the ceremony at Tynwald Hill.
The process, which dates back 1,000 years, is for residents who have exhausted all normal channels of appeal for their grievance.
The petitions were about the rights of freeholders at sheltered accommodation and raising complaints about the health service and legal aid.
The petitions will be considered by clerk of Tynwald, to ensure they adhere to the rules.
They can then be taken up by a member of Tynwald who can request that a committee is set up to consider the grievance.
The committee can then refer the matter to Tynwald for discussion.