No plans to alter Sunday trading, says government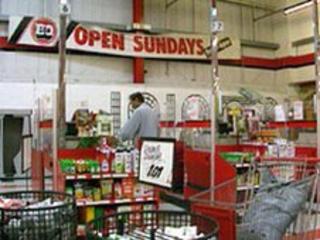 The government has said it has "no plans" to change the laws on shops opening on Sundays.
In the House of Lords, Business Minister Baroness Wilcox said it was important to maintain "flexibility" for employees and firms.
But crossbench peer Lord Hylton argued that a national day of rest would "bring huge benefits" to families, voluntary work and the environment.
Sunday trading was introduced in England and Wales in 1994.
Addressing peers, Baroness Wilcox said: "The government has no plans to make Sundays work-free."
'Lovely thought'
Lord Hylton asked: "Can I persuade her that a national day of rest would bring huge benefits to family life, to recreational sport, to voluntary social activity and even to the environment, by reducing the pollution arising from commercial activities?"
Baroness Wilcox replied: "What a lovely thought. But you will be aware that British workers already have that right to a day's rest, or two days a week, and it's not up to the government to decide what best suits the individual."
There were some laughs when Liberal Democrat Lord Razzall suggested that banning trading risked "throwing us back to those dull Sundays we remember as teenagers".
One peer yelled: "Speak for yourself."
In response to a comment from the Bishop of Gloucester, Baroness Wilcox said Boxing Day, which falls on a Sunday this year, would be treated as a normal trading Sunday.
Under the Sunday Trading Act, all stores in England and Wales are free to trade in all goods on Sundays.
Small shops - those under 280 square metres - can open all day. Bigger stores are restricted to being for six hours of their choosing between 1000 and 1800.