Kittiwakes back despite cliff fall at Seaford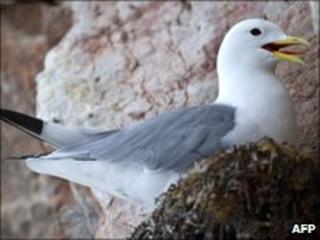 A kittiwake colony on the south coast looks set for a successful breeding season despite winter rock falls at its nesting site.
The RSPB said the first chicks to hatch had been sighted after the birds returned to Splash Point at Seaford, East Sussex, earlier this year.
It had been feared they would not be able to find places to nest.
"It even looks like the colony at Splash Point has spread out," said RSPB organiser Kate Whitton.
"It won't be long until the chicks start to fledge and we will be able to watch them swooping over the cliffs and the sea just like their parents."
'Incredible' colony
The colony at Seaford moved from its original site at Newhaven in the 1970s.
Initial counts this year suggest numbers are back up to those of 2007, with around 800 pairs.
Kittiwakes are sea birds which come ashore only to breed. They nest on sheer cliff faces and spend the remaining six months of every year at sea.
A team from the RSPB will be on hand at the eastern end of Seaford promenade to help people watch the colony.
Binoculars and telescopes will be provided from Saturday until 8 August to enable visitors to get close-up views of the kittiwakes.
"Splash Point is an incredible colony to watch," said Ms Whitton.
"You will see countless chicks nesting on ledges so steep they take your breath away."