Head teachers' search power to be toughened
By Hannah Richardson
BBC News education reporter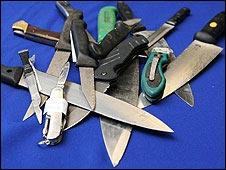 Head teachers in England are to be given greater powers to search pupils and clearer guidance on when they can restrain disruptive children.
Searches for weapons are already allowed and from September these were being extended to include drugs, alcohol and stolen goods.
In the future, teachers will also be able to confiscate mobile phones "legal highs", pornography and cigarettes.
It is part of a drive by ministers to improve behaviour and discipline.
Under the plans, guidance on the use of force is being simplified and teachers are to be given anonymity when accused of malpractice.
During the election campaign, the Conservatives said they would make it easier for head teachers to maintain discipline and good behaviour within schools.
According to the latest Ofsted figures, behaviour is no better than satisfactory in one in six schools.
The new measures focus on how teachers and school staff are able to respond to incidents within schools and enforce punishments.
At the moment heads can authorise a search of pupils, or their bags and lockers, without their consent if there are reasonable grounds to do so, but only to look for knives or other weapons.
As well as drugs, alcohol and personal mobile devices, they will be able to search for "legal highs", tobacco and cigarettes.
Schools minister Nick Gibb wants teachers to have more general search powers covering any item that could cause disorder or pose a threat to safety.
"I think parents want to know that the classroom to which they are sending their child every day is a safe place where their child can learn," Mr Gibb told the BBC News channel.
There was too much "low level disruption" in schools which hindered teachers' ability to teach, he said.
But many teachers are reluctant to carry out searches of pupils and many schools use security or support staff who specialise in behaviour issues to carry them out.
Heads would also be able to arrange detentions outside school hours without having to give a day's notice.
This should enable them to deal with misbehaviour on the day it occurred, Mr Gibb said.
On the use of force, he intends to issue what the government describes as "clearer guidance".
This will explicitly state that teachers can physically remove disruptive pupils from class or prevent them from leaving the room to maintain discipline.
Ministers say the guidance will ensure that prosecutors, judges and those determining complaints allow teachers to apply discipline in the classroom.
Alan Steer, the behaviour advisor for the former Labour government, told the BBC he supported the proposals on search powers and anonymity for teachers, but dismissed the other plans as "fluff".
He said short-notice detentions would damage relations with parents.
"The real way to improve behaviour in schools is to continually raise the standards of teaching," he said.
Chris Keates, general secretary of the Nasuwt teaching union, said the use of force in class could be a grey area.
"Teachers have always had the right to use reasonable force - but it's always that judgement call of what is reasonable force - what is going to be considered as reasonable force in a court of law?"
She said it was quite common for highly disruptive pupils to "know their rights but not their responsibilities".
She adds: "The pupil says 'You can't touch me - if you do you can lose your job'."
And this puts teachers off using force, for fear they would end up facing an allegation from the pupil, she said.
The government is also proposing to give teachers extra protection from false allegations by giving them anonymity until they are charged.
Assistant secretary of the National Union of Teachers John Bangs said a small minority of pupils had "no social boundaries whatsoever".
"We know for instance in primary schools - and this is something that's different from say five years ago - that there are now children coming through who are completely unsocialised, who don't know social boundaries, who are likely to kick, who are likely to scratch.
"You do have to protect yourselves in those situations... and so clarification on the law is going to be welcome to teachers."
The vast majority of accusations made against teachers turn out to be false, he added.
Related Internet Links
The BBC is not responsible for the content of external sites.