Christian pastors bid to make streets of Bangor safer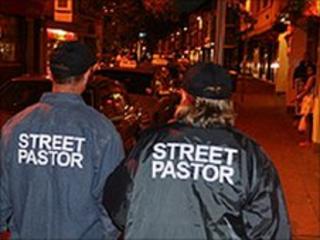 Christian pastors are to take to the streets of Gwynedd at night to help drinkers and revellers stay safe.
Rather than prayer and preaching, the pastors will help the lost and vulnerable in Bangor get home safely.
The pilot scheme, which has proved successful in other towns in England and Wales, will be rolled out from late July.
The volunteers from Cytûn - the Bangor Churches organisation - will work in partnership with North Wales Police.
The Street Pastors movement started in London in 2003 as a response by Christians to issues including knife crime and drug abuse.
'Positive work'
The teams are a familiar sight on the streets of dozens of cities and towns around Britain, where they work to help the casualties of the night-time economy.
The volunteers will walk the streets of Bangor on Friday nights between 10pm and 4am.
They will help members of the public who need assistance in keeping safe - such as those who are lost, drunk or have become separated from their friends.
They will also oversee issues like clearing away broken glass or calming tense situations.
North Wales Police has welcomed the new initiative, which is funded by the Gwynedd Community Safety Partnership.
Chief Superintendent Mark Jones, divisional commander of the Western Policing Division, said: "Bangor has a vibrant night life and I am convinced the street pastor scheme will add real value in further protecting vulnerable people and contributing to making our streets safer.
"My officers are looking forward to working with the pastors, and I consider this is yet another example of the positive work of the Gwynedd Community Safety Partnership in further reducing crime and the fear of crime."
It is hoped the venture will make Bangor a safer place for those enjoying a night out, as well as those who live and work in the city.
Catherine Roberts, Gwynedd's senior community safety officer, said that the scheme would officially launch on July 16 but will not be operational until the autumn.
She said: "We already know that Gwynedd is one of the safest places in England and Wales to live, with crime rates well below the national average and detection rates well above the average.
"We want to do all that we can to ensure that everyone feels safe and secure while enjoying all that the city has to offer.
"The Street Pastors will be a welcome addition to Bangor's night life and we look forward to seeing how this pilot scheme benefits the community."