'Foolish' Tyldesley explosive makers jailed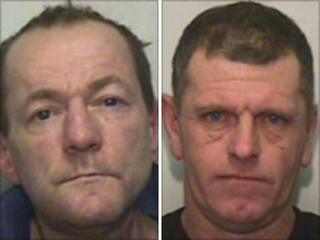 Two men have been jailed for leaving home-made explosives in public places across a Greater Manchester town.
Trevor Shawcross, 52, and Neil Harper, 47, were both sentenced at Liverpool Crown Court to five years.
Shawcross, of Hindley Green, was convicted of possessing explosive devices and Harper, of Tyldesley, was convicted of making them.
Controlled explosions were carried out by police in Tyldesley, near Wigan, in November 2009.
Four of the devices were discovered wrapped up and left in busy areas of the town.
Police were also forced to close Lidl supermarket on Tyldesley Road for several hours, so a device found in a bin liner by a fire exit could be made safe.
While officers were carrying out a controlled explosion they were called to a second device left on a fence by a footpath off West Bank Street.
Later that day a suspicious package was found in the car park of the Focus DIY store.
Shortly before 0930 BST on 30 November 2009, officers arrested Harper at his home on James Street, Tyldesley, where they found two suspicious packages.
Officers recovered 21 devices from Harper's house, car and around the town.
'Considerable concern'
He was found guilty of 21 counts of possessing explosive devices.
Shawcross, of Green Lane, Hindley Green, was found guilty of 19 counts of making explosive devices.
Police said that a motive for the men's actions had never been established.
Det Sgt Joanne Clawson, of Greater Manchester Police, said: "Although the devices were crude in design, they were modified explosives and had the potential to seriously injure any number of innocent people.
"By doing what they did, Shawcross and Harper effectively brought Tyldesley to a standstill and caused considerable concern in the community.
"I don't know how malicious their intentions were, but what is crystal clear is their actions were reckless, foolish and totally unacceptable."