'Jobs will go' claim as Guernsey cigarette ban extended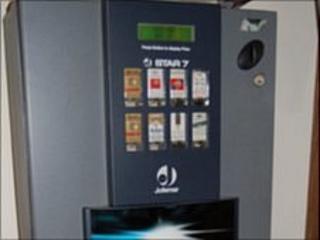 The plan to ban cigarette vending machines and the display of tobacco products in Guernsey will cause job losses, one company director has said.
Norman Jackson, managing director of Future Vending, said he was concerned by the lack of consultation.
Ahead of the decision by the States there was a public consultation, but not on a complete vending machine ban.
His prediction of job losses is shared by the Channel Island Tobacco Importers and Manufacturers Association.
Mr Jackson said: "With a business of this size it's going to mean redundancies for certain. We have four members of staff working to this company and that will probably go down by half unfortunately."
Mr Jackson said he was shocked by the change to the proposals. The consultation paper had included proposals for a ban on cigarette vending machines in establishments open to under-18s and banning the display of tobacco products at the point of sale, but not the complete vending machine ban that was decided on.
Mr Jackson said: "It is going to completely change how we do business, I don't think people realise the ramifications this decision is going to have and all of it really at the last minute and didn't have anything to do with the consultation paper that we all took part in filling in."
'Step too far'
The Channel Islands' Tobacco Importers and Manufacturers' Association (CITIMA), which represents retailers, also had issue with the consultation and said the changes would cost thousands of pounds to implement and would result in the loss of local jobs.
Spokesman James Filleul said: "The consultation... was very poor and didn't mention benchmark against anything like best practice in other jurisdictions, so what we're asking for now is that a proper consultation period is undertaken to minimise the effect on small retailers.
"And not in September we simply get presented with it as a fait accompli and expected to put it into practice, because if that happens you will see small Guernsey shops going out of business and jobs being lost."
The changes were put forward by the Health and Social Services Department, which said it had taken the step in an attempt to reduce smoking, particularly among youngsters.
Minister Hunter Adam said in a survey of smokers and ex-smokers 75% had said they started smoking before they were 19 years old and 29% had started before their 15th birthday.
He said his department had not put forward a complete ban as part of their proposals as they felt States members "wouldn't accept it because it was a step too far".
He also defended the consultation, pointing out the questions included the prospect of banning vending machines as well as limiting them to establishments only accessed by people aged 18 and over.
Deputy Adam said his department had proposed limitation of the placement of vending machines because 75% of respondents were in favour of this measure, but that it was still a majority (55%) of those who had responded who supported a complete ban.
The decision has been welcomed by Alun Williams, the chairperson of the Guernsey Adolescent Smokefree Project, who said: "Guernsey should be proud of its tobacco-free stance. It has reaped rewards for the island, not least a reduction in the rate of smoking amongst young people, which is significantly lower than most other countries.
"We understand the anxieties of traders because tobacco sales have been so lucrative in the past. But times change and quite simply there are occasions when benefiting the public health must take precedence, and this is such an occasion.
"These displays are all about targeting children, promoting smoking to them and no longer have a place in a community like Guernsey that cares about the health of its young people.
"We can't afford to continue to send mixed messages to young people. There are plenty of anti-smoking messages around, yet to see tobacco alongside newspapers and sweets in shops like it is a normal everyday product contradicts those messages."
One opponent of the ban on smoking inside public places, which came into force in July 2006, has called the decision "another step too far".
Peter Leigh, the landlord of the Hampshire Lodge in the Vale, said: "What's next? Are we going to ban chocolate vending machines as that causes obesity - is that the next step? This is just getting a really silly island."
"If children want to smoke they will, by making it more and more unaccessible, it means they'll want to do it 'because we're not allowed to'."
Sympathy for smokers
He said it was another erosion of civil liberties, that selling cigarettes from behind the bar would increase the time it took to get served and that it could encourage more break-ins as cigarettes would not be as safe behind the bar as they would be in a vending machine.
However, Simon Allum, the landlord of the White Hart in St Peter Port, said he did not have any problems with the ban from a business point of view.
He said smokers had his sympathy but that "maybe the writing had been on the wall" for some time, as if smoking was no longer allowed inside a pub should he still be offering them to customers?
Mr Allum said he did not anticipate a drop in trade and that the 2006 ban had not affected business so he did not believe it would this time either.
He said that for his premises, with one floor and several exits, the ban had had less impact than other places as it was easy to adapt.
He added that he definitely did not miss cleaning out ashtrays or the way "you used to smell when you got home".