Tesco 'to exhume human remains' at Linwood store site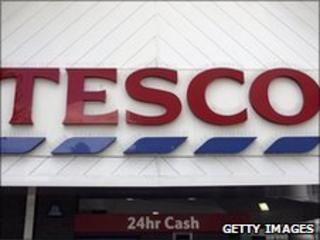 Tesco has been given approval to exhume 19th Century human remains as it starts construction in Linwood, Renfrewshire.
A judge granted an order allowing the firm to open a burial vault at the former parish church and remove the corpses for cremation and reinterment.
Linwood has been described as a Tesco town after plans were approved to build a supermarket and other facilities which will supported by the company.
Tesco had hired a genealogist to trace the descendents of those buried.
The mausoleum was covered over in the 1940s, when the church hall was constructed on the site.
When the site was discovered Tesco put a camera into the vault and established that there were four lead-lined coffins and debris which may be the remains of one or more wooden coffins.
The firm believes the vault contained five members of the Speir family.
At the Court of Session in Edinburgh, Stephen Govier, counsel for Tesco, said a forensic pathologist who had inspected the site said the remains would be in an advanced state of decomposition and possibly reduced to skeletons.
Tesco told the court it believed only one of the family members buried there had married and had children.
The company identified 17 of their descendants and asked what their wishes were.
'Shortage of space'
Mr Govier said the plan was to reinter the remains following cremation at Whitekirk Churchyard in East Lothian, where more recent generations of the family have been laid to rest.
"Because of a certain shortage of space at that churchyard there would be difficulties in a burial, as opposed to a cremation and then interment of the ashes," he said.
Lord Brodie said he was satisfied that authority should be given to open up the vault and reinter the remains.
A spokesman for Tesco said: "We are now reaching the conclusion of a very lengthy legal matter.
"We will continue to liaise with the families to ensure that they are happy to proceed with the final stages of this process."