Devon-Cornwall border merge in constituency proposal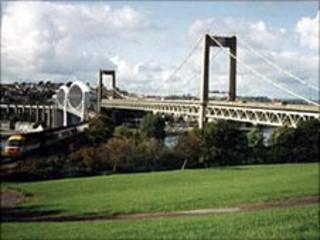 Electoral reform could see the creation of a constituency which crosses the Cornwall-Devon border.
Government proposals suggest creating constituencies with 75,000 voters in them, which would need to incorporate parts of the two counties.
Cornish MPs Sheryll Murray and Dan Rogerson said the Tamar River should not be crossed.
But Devon MP Alison Seabeck said constituencies should be about where people were involved in everyday life.
Historical boundary
It is predicted that if boundaries are changed, South East Cornwall or North Cornwall would merge with Devon West and Torridge or Plymouth Moor View, incorporating two sides of the River Tamar.
Sheryll Murray, Conservative MP for South East Cornwall, said: "There's a definite, natural line and boundary between my constituency and the city of Plymouth.
"I certainly would not be prepared to lay down and accept that we have to cross county boundaries and the Tamar."
In the proposals, Deputy Prime Minister Nick Clegg said, if approved, the Boundary Commission would re-draw the constituency map so each had roughly the same number of voters.
The only areas not affected by the constituency levelling would be Orkney and Shetland and the Western Isles, which were considered "uniquely placed".
Ms Murray said she believed the River Tamar should also be considered as naturally separating Cornwall from Devon.
MP for North Cornwall Dan Rogerson said: "There is an issue of the very natural boundary of the Tamar, doing it as a mathematical exercise is too rigid.
"We are economically different, there's all the cultural aspects as well, and we need to make sure that we come up with boundaries which make sense."
Boundary Commission
But Alison Seabeck, MP for Plymouth Moor View, said: "It would be controversial, but it's a river. It could just as easily be a large expanse of heathland.
"The Boundary Commission will look at linkages like where people travel to work and school, and where they feel most aligned to."
Mr Clegg said boundary changes and reducing the number of MPs by 50, to 600, could save taxpayers up to £12m a year in salaries, pensions and allowances.
The Boundary Commission has until 2013 to make its recommendations.