Pakistani army clashes with militants in the north-west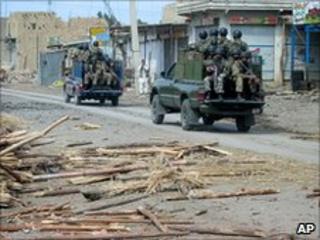 At least 23 militants have been killed in clashes with the army in north-west Pakistan, police have told the BBC.
They say that the militants were killed after they opened fire on troops carrying out a search in the Maidan area of Lower Dir region.
The search follows a suicide attack on Sunday at a paramilitary fort in Lower Dir, where troops killed hundreds of militants in an offensive last year.
The military say the offensive enabled them to take control of the area.
They say that they are now trying to consolidate those gains.
Residents of Maidan told the BBC that the security forces put the entire area under a curfew on Monday night before the search operation - in which about 280 people were arrested - began.
Police told the BBC that it was not known whether any militants were among those arrested.
The army says that the fighting began when "miscreants" opened fire on troops searching the area after reports of "militant movements" in the remote village of Kilpani in Lower Dir.
In Sunday's attack, four bombers armed with car bombs and rockets attacked a fort in the area - killing one soldier.
Independent verification of the army's claims was not available. Correspondents say that militants often reject and dispute casualty figures issued by officials.