Men convicted of £40m Graff jewellery robbery in London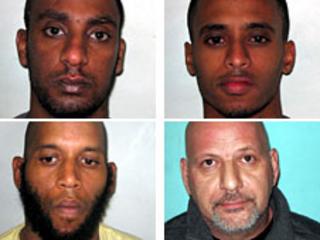 Two more men accused of taking part in the UK's biggest jewellery robbery have been found guilty.
Diamonds worth £40m were stolen from the Graff store in central London in August last year.
Solomun Beyene, 25, of St John's Wood, and Clinton Mogg, 43, of Bournemouth, were found guilty of conspiracy to rob at Woolwich Crown Court.
Two other men have already been found guilty. The jury could not reach a verdict on Craig Calderwood, 27.
Right hand man
Thomas Thomas, 46, of East Finchley, north London, and Aman Kassaye, 25, of Battersea, south London, were convicted of conspiracy to rob at an earlier hearing.
Kassaye, the plot's mastermind, was also convicted of possessing a firearm.
The court has heard Beyene was his right-hand man. He and Mogg were both found guilty by a majority verdict of the jury after 16 days of deliberations.
The jurors failed to reach a verdict on Mr Calderwood, of no fixed abode, and they were discharged.
He had been accused of conspiracy to rob, possession of a handgun and possession of a sawn-off shotgun.
He admitted taking part but claims he was forced into this by criminals.
He will find out if he faces a retrial at 1030 BST on Wednesday while the other defendants will be sentenced at a later date.
'High stakes' raid
Police have also issued an appeal to the public to help find a motorcyclist suspected of making off with the loot.
He was passed a black plastic bin bag containing the gems moments after the heist.
A £1m reward remains in place for information leading to the recovery of the 43 pieces.
The biker was forced to abandon his gold Suzuki SV650 when it broke down just a short distance away in Berkeley Square.
Officers scoured hundreds of hours of CCTV in a bid to trace his escape route through central London.
But they lost track of him after he walked into Green Park, a short distance from Buckingham Palace.
The gems stolen in the "high stakes" raid have never been recovered, despite being laser stamped with an identifying code.
One diamond necklace alone has been valued at £3.5m.
It is thought the criminals who planned the raid are still at large.
A woman held hostage at gunpoint by robbers as they fled said she was "petrified".
Petra Ehnar said: "I was thinking I am going to be shot, killed."
The robbers, who used professional make-up to disguise themselves, had forced employees to hand over jewellery.
Ms Ehnar was held hostage by the robbers as they fled, shooting at a guard who tried to tackle them.