Five children in dinghies rescued off Whitstable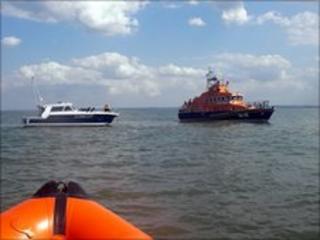 Lifeboat crews in Kent have warned beach users about using inflatable dinghies after five children had to be rescued in two separate incidents.
Whitstable Lifeboat was called out on Sunday afternoon after two children were blown 500 yards (457m) offshore from Leysdown on the Isle of Sheppey.
It was called out on Monday to three children aged 16, 13 and 10 who were in difficulty in the same area.
A spokesman said dinghies should be tethered to a groyne or other anchor.
Returned to shore
On Sunday, the lifeboat arrived to find the occupants of the dinghy were now 200 yards (182m) offshore and wading back to the beach.
But a beach lifeguard who had gone to their aid was now exhausted 500 yards out and in need of assistance.
On Monday, the trio were taken on board the lifeboat and returned to the shore.
A spokesman said the incidents were a timely reminder of the dangers of inflatable beach toys that can be quickly swept out to sea.
"If people must use such things, they should always tether them to a groyne or suitable anchoring device and be constantly aware of wind and tide," he said.
Also on Monday, Whitstable lifeboat assisted the crew of a 35ft (10m) cruiser which had broken down off Warden Point.
It towed it to meet the Sheerness Lifeboat, which took the vessel to Queenborough.