Oxfordshire M40 wind farm plan given approval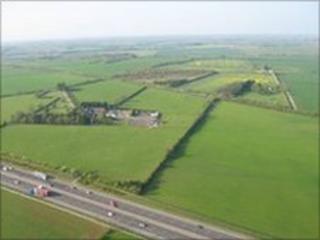 A government inspector has ruled that a wind farm in Oxfordshire can be built alongside the M40, near the village of Fewcott.
A public inquiry was held in March over the proposals, which included four turbines, each 411ft (125m) high.
The company behind the plan appealed after Cherwell District Council refused planning permission in April 2009.
Planners said the benefits of building the turbines between Fewcott and Fritwell outweighed the harm.
Heavy lorries
Councillors voted against the plan voicing fears it would spoil the view and local roads would not cope with heavy lorries in and out of the site.
Campaigners have vowed to continue fighting the proposal.
Andrew Hunter, who lives on the farm closest to the site, said: "I'm absolutely gutted and deflated.
"We hoped and prayed common sense would prevail here and it hasn't.
"We will be using every opportunity to hold back what's coming."