Mother says 'money wasted' on special school transport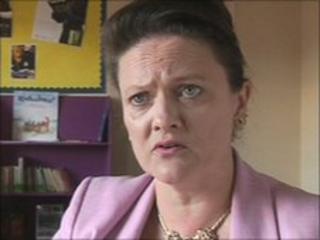 A mother who set up a school for her autistic son claims councils are wasting thousands of pounds by sending children to other schools by taxi.
Suzanne Buckner set up Freddies School in central Reading 18 months ago but her son remains the only child being taught there.
The centre for children with autism and dyslexia is Ofsted registered.
Reading council said it did not opt for the school because it was only rated as "satisfactory".
Meanwhile, Wokingham Borough Council said "decisions are based on a combination of parental preference and professional assessment of a child's needs".
Mrs Buckner used her own money to set up the independent school for her son and others with emotional and behavioural problems, but nine-year-old Freddie Buckner remains the only child there.
She runs it as her own business venture and the school has two classrooms, an assembly hall, a playground and a headmaster.
She said: "I think there's an awful amount of money that's being wasted in the system, in terms of transporting children into residential placements, when actually what's sensible for the families, sensible for us as tax payers, is that we have local day care provision."
Higher fees
Freddie's £54,000-a-year fees are paid by Wokingham Borough Council and that covers the running costs of the school, including salaries.
He is one of three primary school age children in Wokingham with such needs but the other two are sent outside the area to special schools recommended by educational psychologists.
The cost of taxi travel for them amounts to £30,000 a year, the council said.
Reading Borough Council sends four children elsewhere. One of them is in residential care costing the council £300,000 a year.
The councils said they did not send children to Freddies chiefly because its Ofsted rating was only "satisfactory", but also because the fees were marginally higher than what they already paid.
Andy Couldrick, education officer for Wokingham Borough Council, said: "Obviously into that mix we add the fact that parents have very clear views about where they want their children to be educated, and it's through those discussions and that planning that we find the right places for these children."
Mark Routh, lead councillor for education and children's services at Reading Borough Council, said: "I'll certainly have a look at [the costs of taxis] and see how those prices might bring up the prices we're paying.
"Then of course it's up to Suzanne in terms of whether we can improve the Ofsted rating of Freddies for use by Reading children."