'Too early' to determine Gulf spill fallout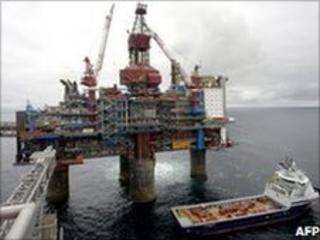 The UK oil and gas industry has said it does not expect a backlash against deep water drilling in the wake of the Gulf of Mexico disaster.
US President Barack Obama has threatened tight new regulations on allowing companies to carry out difficult and risky deep sea drilling.
A Oil and Gas UK spokesman acknowledged it was "too early" to say what the impact of the BP spill would be.
Oil has been leaking from a blown-out well in the Gulf since 22 April.
Malcolm Webb, chief executive of Oil and Gas UK, said: "There's a tendency to rush to judgement on what happened there and what the implications will be, but it's too early to speculate."
He suggested that American regulators would be more likely to move to a system similar to Britain's, which was changed in the wake of the Piper Alpha explosion which killed 167 people in 1988.
He said: "We're in a very different regulatory position.
"Since Piper Alpha, we separated out safety regulation from economic licensing regulation, so professional health and safety regulators are doing their independent job.
"Secondly, the regime over here is not the box-ticking proscriptive regulation, but goal-setting, so that the operator is charged with making sure operations are safe at all times."
Britain's offshore energy industry is expected to increase its investment this year to more than £5bn.
The industry body said business optimism was returning in the sector despite a significant fall in activity in 2009.
In its annual survey of member companies, Oil and Gas UK found a 5% drop in production was expected this year as North Sea fields matured.
Last year, a drop in demand for gas contributed to a 10% fall.
Despite that, the UK remained the 15th largest gas producer and 19th largest oil producer in the world, with 900 million barrels of oil produced in 2009.
Economic director Mike Tholen added: "Contrary to the general perception that reserves are dwindling fast, the oil and gas produced from beneath our seabed still meets the vast majority of this country's primary energy needs over the year - 94% of our oil demand and 68% of our gas demand.
"Importantly, with sustained investment, encouraged by the right business environment, we will have enough oil and gas still to satisfy half of the UK's needs in 2020."