Gold and jewellery valued at £100,000 stolen in Guernsey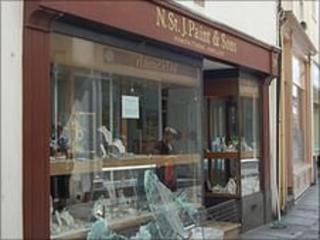 Guernsey Police are investigating after more than £100,000 worth of gold and jewellery was stolen from a St Peter Port store.
The robbery happened at N St J Paint and Sons, a jewellers in the Pollet, at about 0400 BST on Tuesday.
Michael Paint, the shop's owner, said the incident was captured on the shop's CCTV cameras.
A police spokesman said a number of suspects had been arrested in connection with the break-in.
Police added they would like to speak to anyone who saw anything suspicious in the area.
Mr Paint said the CCTV had shown multiple strikes by a sledgehammer were used to break through the shop's security grill and window.
He said the stock that was stolen was uninsured.