Dying Cameroonian mother's plea to government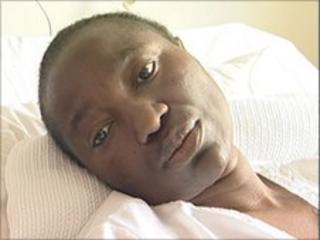 A Cameroonian woman who has cancer is appealing to the government to allow her children into the UK to visit her before she dies.
Marie Woodcook, 47, who has lived in Sheffield since 2004, is suffering from terminal lung cancer.
A judge has refused visa applications which would have enabled her two teenage children to travel from the west African country to see her.
The UK Border Agency said her children had not met the visa requirements.
After this Mrs Woodcock's case was taken up by Sheffield MP David Blunkett who wrote to Home Secretary Theresa May asking her to consider the case on compassionate grounds.
She said the applications of son Leumani, 18, and 15-year-old daughter Ornella had not included up-to-date bank statements, as advised, but they could re-apply.
Mrs Woodcock told BBC Look North: "Could the British government give me an opportunity to see my children before I pass away?
She added: "I want to tell them how much I love them to their face, not on the phone or by e-mail."
Mrs Woodcock's supporters say processing further applications could take some time and they fear she may not survive long enough to see the children.
'Compassionate case'
The Sheffield-based City of Sanctuary organisation said Mrs Woodcock was helped out of Cameroon by friends in 2004, following the arrest of her former husband.
After settling in the UK she married a Sheffield man and has been granted British citizenship.
Mrs Woodcock's solicitor Chris Cole said it was a "desperately difficult" situation and they were challenging the judge's decision.
"We think that this a very compassionate case where there are strong human rights arguments why the children should be allowed to visit their mother for one last time."
Barbara Woodward, of the UK Border Agency, said: "Regrettably, in this case, the applicants failed to show they met the visa requirements. An immigration judge upheld the refusal on appeal."
Sarah Eldridge, of City of Sanctuary ,said the teenagers were in the process of resubmitting their application, but they feared time may run out.
"Marie is very ill, she is in hospital in Sheffield and her situation is getting worse by the day," she said.
"She is a British citizen, she is married to a British man and she has made her home in Sheffield. She has said that she just wants to see the children, then she is happy to die."
"Why can't the government say, 'let's be compassionate, let's allow these children in'?"