Top award for Saughton Prison library in Edinburgh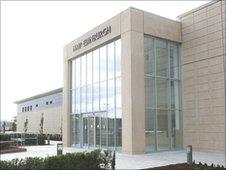 An Edinburgh prison library has won a prestigious award for its "life-changing" impact on inmates.
The library, which opened at Saughton Prison in November 2008, is the only one in Scotland with a waiting list.
Some 12,500 prisoners passed through its doors in the first year and damage to library books has reduced from 80% to zero since it opened.
Broadcaster Mark Lawson will hand over the Libraries Change Lives Award at a ceremony in London on Tuesday evening.
The Chartered Institute of Library and Information Professionals is behind the award.
Housed in a purpose-built extension, the library includes designs and fittings that were created and built by prisoners.
One prisoner, who wanted to remain anonymous, said: "When I first came into jail I found it really hard to read because I wasn't good at concentrating.
"I would have to read the same paragraph over and over but after persisting with it and practising all the time, I find reading just as easy as breathing.
"I have to admit that reading is now a hobby for me. I love it and I would be lost without it as it's helped me through my sentence."
Linda Constable, chairwoman of the judging committee, said: "This project demonstrates and evidences 'changing lives', and has made a huge impact on all the prisoners and the staff working in the prison."
Ian Kirkby, library development officer at Edinburgh City Libraries, said: "Our work and focus is in making the prison library work to reduce re-offending and in supporting healthier local communities.
"None of us set out to seek awards, however it is delightful and uplifting to be acknowledged by our profession for our work in this project and a reaffirmation of the value of libraries in our communities."
The winning library service receives a trophy and £5,000 in prize money.
Related Internet Links
The BBC is not responsible for the content of external sites.