Wester Ross firefighter artist in Russia show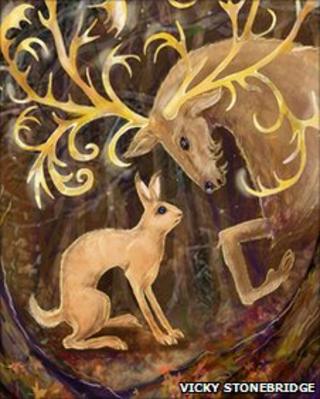 An artist who also serves as a volunteer firefighter has been invited to exhibit her work in Russia, along with another Highlands artist.
Vicky Stonebridge, from Lochcarron, will attend an international symposium in the Republic of Tatarstan.
She will be joining Lynn Bennett-Mackenzie, from Gairloch, for the trip next month.
The Wester Ross artists expect to be the only UK representatives at the event in the city of Elabuga.
Their artwork will be exhibited as examples of Scottish heritage.
Artists from Kazakhstan, Uzbekistan, Belarus and India are also expected at the event organised by the Elabuga State Historical, Architectural and Art Museum.
Ms Stonebridge is a freelance artist who produces and teaches art, illustrations and crafts.
She co-runs the Highlands International Comic Expo, held in Inverness, and is a retained firefighter for Lochcarron.
The artist said the symposium would give her a chance to showcase the kind of artwork she was discouraged from doing at art college.
She said: "Art college was very against fantasy art and stopped me drawing fairies and dragons early on.
"Twenty-five years later I have almost come full circle and have realised that creative work from the imagination or inspired by our wild landscape and fairy lore is important."
Ms Bennett-Mackenzie has spent most of her life in the remote rural areas of the Highlands.
She graduated from Gray's School of Art and has a workshop and studio on a croft from where she also operates a framing business.
Her work includes oil paintings, watercolours and pen and ink.