Schools' refurbishment scrapped across Lancashire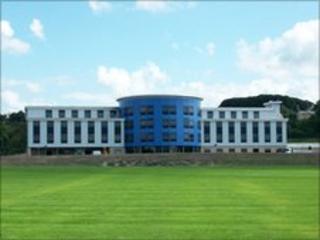 The £100m planned refurbishment of 10 Lancashire secondary schools has been scrapped by the government.
Work was due to begin next year on upgrading the schools in Colne, Barnoldswick, Haslingden, Accrington and Rishton.
Seven new schools costing £250m have been recently built as part of The Labour government's Building Schools for the Future (BSF) programme.
A further six will be completed, but scrapping BSF has ended building plans.
Under BSF, Lancashire was to have all 83 of its secondary schools rebuilt or refurbished over the next decade.
Sarah Bryant, who teaches at Rhyddings High School, one of the schools which was to have been refurbished next year, said: "We've done a load of work on planning our new building and a load of money has already been spent.
"I work in an 85-year-old classroom and I'm struggling to create up-to-date 21st Century lessons in a Third World building - It's absolutely appalling.
Marsden Heights Community College in Pendle, which opened in April at a cost of £21.1m, is one of 13 new schools built under the BSF programme.
'Maximising money'
Mike Hart, Lancashire's director of capital investment and resources, said new schools had improved attainment levels in deprived areas and had provided "inspirational buildings" for communities.
He said a review of building projects was to be carried out by the coalition government, which may conclude that more money could be released later to continue improvements.
"It's a big unknown at present," he said.
Lancashire County Council member for children and schools Susie Charles said: "It is obviously disappointing not to be able to proceed with our phase four Building Schools for the Future projects.
"We welcome the review of capital projects which will look at streamlining some of the processes and maximising the money available to improve school buildings.
"As an experienced BSF authority we would welcome the chance to contribute to this review.
"I'm hopeful that the outcome of the review will continue to provide resources we can invest in schools in Lancashire."