France's Sarkozy rejects campaign donation 'smears'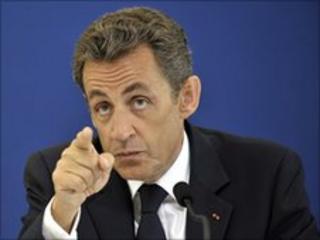 French President Nicolas Sarkozy has dismissed claims that his presidential campaign received 150,000 euros (£124,000) in illegal party financing.
He was responding to allegations reportedly made by a former accountant of L'Oreal heiress Liliane Bettencourt.
The accountant, who prosecutors have questioned, told the website Mediapart the cash had been channelled through Eric Woerth, now budget minister.
Mr Woerth, under growing pressure over the case, has also rejected the claims.
The latest developments in the case come a day after two junior ministers in Mr Sarkozy's government resigned over separate spending scandals.
In comments to journalists on Tuesday, Mr Sarkozy said he regretted an era in which "there is more interest in the person who creates a scandal than in the person who works".
"I would love it so much if the country could excite itself over the big problems... rather than to get wrapped up in the first horror, a slander with only one goal, to smear without the slightest reality," he said.
'Envelopes'
Mediapart quoted Mrs Bettencourt's former accountant, who made a statement to police on Monday and the website identified as Claire T, as saying she had been involved in withdrawing 150,000 euros to pass to Mr Woerth as a contribution to Mr Sarkozy's campaign fund in March 2007.
She also alleged that Mr Sarkozy was one of a number of centre-right politicians to receive regular envelopes of cash when visiting a house where Mrs Bettencourt and her husband lived.
"Everyone in the house knew that Sarkozy went to see the Bettencourts to collect money," she was quoted as saying.
An aide to Mr Sarkozy dismissed the claim as "totally false".
French law places strict limits on donations to political parties.
Mr Woerth, who is treasurer of Mr Sarkozy's UMP party and was treasurer of his 2007 election campaign, denied any wrongdoing and said he had no intention of resigning.
"I am totally outraged. It's been eight years that I've been treasurer of my party and I don't think I've done anything wrong," he told I-Tele.
"Everything is transparent, everything is clean, everything is clear."
Mr Woerth is a key ally of Mr Sarkozy, and is leading efforts to reform the French pension system.
A trial relating to the 87-year-old Mrs Bettencourt's estimated 17bn euro fortune opened briefly last week before being adjourned.
In the trial, Liliane Bettencourt's daughter Francoise is suing the 63-year-old celebrity photographer Francois-Marie Banier, a close friend of her mother's, for allegedly exploiting her mental fragility to gain access to her fortune.
Mr Woerth's wife worked for a firm that managed Mrs Bettencourt's wealth, and his name came up in secret tapes recorded by Mrs Bettencourt's butler that have been submitted as evidence in the trial.
Opposition politicians have asked why Mr Woerth never ordered a review of Mrs Bettencourt's taxes while budget minister in 2007-2010.