Funeral for South Africa bus crash teenager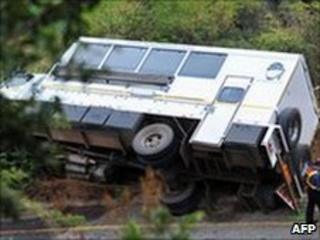 The funeral of a Leicestershire teenager killed in a bus crash in South Africa has taken place.
Samantha Lake, from Syston, died in the crash near Nelspruit, in the north east of the country, on 10 June.
The 19-year-old was one of three students from Brooksby Melton College killed when the vehicle overturned.
A service was held at St Peter and St Paul Church in Syston, followed by a celebration of her life at the college's campus.
The group of 18 students and two teachers were on a field trip as part of their degree course, and were travelling from Swaziland to Nelspruit to visit a monkey sanctuary when their bus crashed on a bend.
Eleanor Payne, 19, from Hinckley, and Daniel Greenwood, 22, from Syston, also died.
Ms Lake's father Stuart said his daughter had been determined to go on the trip and had saved the money herself.
He said: "She always wanted to go out to Africa, so as soon as she knew there was going to be a trip, she decided that she wanted to be on it.
"She got a big tin and wrote on it 'Wildlife Africa Fund - 1p Minimum Charge' and as you went past it you had to put some money in."
He added: "The main thing we've got to grab on to is happy memories that Samantha gave us. We've been so lucky to have Samantha."