Plans to replace Humber Bridge toll system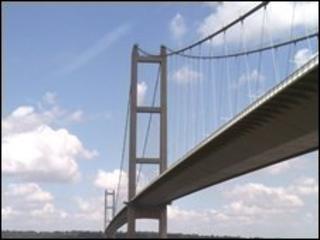 Plans have been put forward to replace the Humber Bridge tolling system.
The new system aims to speed up the crossing process by allowing users to go through toll booths without having to stop.
Regular bridge users will have the option to have a device fitted into their car which will allow the bridge to detect each time they cross.
The user will then be charged the appropriate amount to an account.
Regular booths will still be used for those who do not have one of the devices fitted.
Plans have been announced by the Humber Bridge Board and work is estimated to start in 2011.
A number plate recognition system will be installed to police people attempting to cross the bridge without paying.
Reduce queues
Bridgemaster Peter Hill said: "Our current tolling system has been in place since the bridge opened in 1981, so it is definitely due an update and the equipment itself is rapidly becoming obsolete and very expensive to maintain."
He said the new system would speed up the crossing process and reduce queues.
Mr Hill confirmed the new system would not affect the current toll charge, which is £2.70 for a car.
The Humber Bridge, which is operating with a £330m debt, was opened in 1981 and at the time of its completion it was the longest single span suspension bridge in the world, a record which it held for 17 years.
It is still the largest bridge of its kind in the UK and is used by more than five million motorists a year.