Tree disease puts brakes on Swansea Bay Rally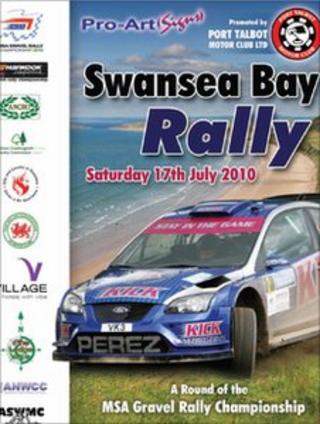 A motor rally due to attract thousands of spectators to south Wales has been postponed due to a tree disease.
The route of the Swansea Bay Rally runs through forests near Resolven and Rhondda that have been hit by the Phytophthora ramorum infection.
Also known as as "sudden oak death" it kills many of the trees it infects and can be spread by tree needles and soil clinging to people or vehicles.
Meanwhile, a £600k support package has been announced to fight the disease.
The rally was due to start and finish outside Swansea Museum on 17 July.
The infection has been confirmed in Japanese larch trees in woodland managed by Forestry Commission Wales in the Afan Valley near Port Talbot, in Garw Valley near Bridgend, and the Vale of Glamorgan.
The outbreak is the first time P. ramorum has been found on Japanese larch trees outside of south west England.
The rally, which has been running for almost 40 years, is part of the MSA National Gravel Rally Championship.
Around 80 semi-professional and club drivers were due to take part.
Part of the route followed by competitors went through Welsh Assembly Government woodlands that were affected.
Forestry Commission Wales said as the cars would travel between infected woodlands and uninfected areas several times during the course of the rally, there would be a high risk of spreading the disease.
It met with the rally organisers, Port Talbot Motor Club, last week to try to identify an alternative route but could not find a suitable one.
Forestry Commission Wales district forest manager Dai Jones said: "We are treating the outbreak of Phytophthora ramorum in south Wales very seriously and we are determined to minimise the impacts of this disease on woodlands.
"We are disappointed that the Pro-Art Signs Swansea Bay Rally has been postponed but the risk of allowing a large number of cars to travel between areas that are infected by this serious tree disease, and those that are not, is too great.
"We hoped that, by working with the rally organisers, we could identify an alternative route but, as this has not been possible at this time, we look forward to welcoming the event back in future."
The Forestry Commission Wales said it was holding discussions with rally organisers to consider options for other events that are due to take place later this year.
The public woodlands remain open and signs at forest entrances ask visitors to observe some precautions to minimise the spread of infection.
The Forestry Commission announced on Tuesday £600k funding was being made available to woodland owners to fight the disease in south west England and south Wales.
The first £100,000 has been earmarked to give private-sector owners access to professional advice about how to have infected trees felled and marketed in ways that comply with biosecurity and other regulations.