MPs ban public from expenses row committee hearing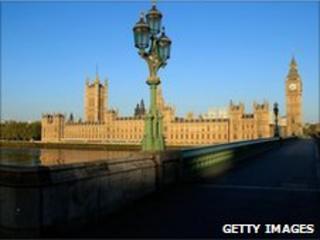 MPs have questioned expenses officials in private, following an explosive public evidence session last week.
A second committee hearing had been due to be held in public, but a "round-table discussion" took place behind closed doors instead.
Some MPs are upset the new Independent Parliamentary Standards Authority (Ipsa) will cost £6.5m this year. Its predecessor cost £2m last year.
But Ipsa says its cost includes start-up expenses and the figure will fall.
Chairman Sir Ian Kennedy and his colleagues faced a committee of MPs, set up by Commons Speaker John Bercow, for the second time in a week on Tuesday.
At a hearing last week, several parliamentarians vented their anger at Ipsa, accusing it if running an over-complicated computerised expenses system and questioning its staffing costs.
A parliamentary spokeswoman told the BBC: "The committee has decided they took a lot of evidence last time and would like a bit more time to think about what's been said."
Rather than having a formal evidence session, there will be a "round-table discussion", she added.
Ipsa estimates that MPs' staffing costs and expenses costs may be £12m a year lower than under the previous expenses scheme and that its own running costs will be cheaper than those of the old system.