Toyota car workers hear Burnaston redundancy terms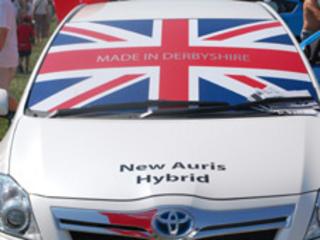 Workers at Toyota's Derbyshire car manufacturing plant are hearing the details of redundancy packages four months after job cuts were announced.
Production of the new Toyota Auris began at the site last month, but the company said better efficiency meant less staff were needed.
A total of 850 jobs are being cut at the Burnaston plant and another in Flintshire.
A spokeswoman said there would be no compulsory redundancies at both sites.
The Japanese firm said last week that production of Europe's first mass-produced hybrid car had secured 400 jobs at the Burnaston plant.
Hybrid versions of other Toyota models are made in the US and Japan but this is the first to be manufactured in the UK.
The Burnaston plant was shut down for a fortnight in April as a response to the global slowdown in vehicle sales.
The workforce has also agreed to a pay freeze in 2010, though a 10% cut in hours and wages has ended.
The factory produces the Auris and Avensis models and currently employs about 3,800 people.
A company spokeswoman said in a statement: "The package we are offering is well above statutory redundancy levels.
"To support this voluntary release programme we have provided a full support package by establishing a career support centre where all our employees can take advice on options available to them, CV writing support, interview workshops etc.
"We feel that this total package and support will provide an excellent opportunity for employees who wish to pursue an alternative career outside of Toyota.
"Whilst a voluntary redundancy programme is unfortunate, this move will safeguard the jobs of the employees who stay".
No one was available from the union Unite for comment on the redundancy package offers.