Self-harmers 'not receiving help needed', says report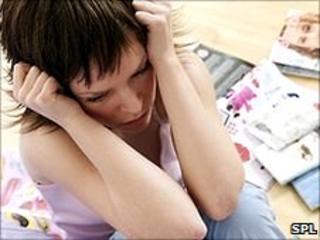 People who self-harm are not getting the help they need because of a 'patchy' provision of services, a new report says.
The Royal College of Psychiatrists criticises a lack of training for NHS staff on self-harm.
The report examines the care given to people at risk of suicide and self-harm and makes a series of recommendations to improve standards.
It is estimated that four-in-1,000 people have self-harmed in the UK.
While there has been a downward trend in the number of completed suicides in recent decades, the number of people self-harming in the UK has continued to rise over the past 20 years.
The rate of self-harm in the UK's young people is among the highest in Europe.
'Bad at night'
In the report, Self-harm, suicide and risk: helping people who self-harm, the Royal College of Psychiatrists surveyed over 1,500 of its members.
More than half of those who responded felt they or their team did not have sufficient training to assess people who had harmed themselves.
The situation is particularly bad at night, say respondents to the survey, when junior doctors and other inexperienced health professionals can be left to deal with people in potentially life-threatening situations.
The survey also suggests accident and emergency departments fare worse.
'Major repercussions'
The report was produced by a working group, chaired by Lord John Alderdice, consultant psychiatrist in psychotherapy in Northern Ireland.
He said: "Overall the evidence painted a bleak picture of standards of care in UK hospitals. This situation is unacceptable by any reasonable standard. Lives may be at stake.
"When a person turns up to hospital having self-harmed, this is often the first time they have had contact with the health service.
"Failure to deal effectively with a person at this stage will have major repercussions. It may discourage them from returning in a later crisis and stop them getting the care they need," he said.
The report made a series of key recommendations, including:
NHS services, particular in A&E, should be managed in a way which ensures people who have self-harmed or attempted suicide have proper access to care and treatment by fully-trained clinical staff
A change to the culture of NHS services, so that staff who encounter people who self-harm are trained and supported
A proper public health strategy to cover self-harm, and for the suicide prevention strategy to remain a priority in all nations of the UK
More funding of research on self-harm, which has been neglected and overlooked.
A Department of Health spokesperson said: "Intentional self-harm is almost always a symptom of a complex mix of problems like mental illness and social exclusion.
"Rates are down in young people and we are looking carefully at ways to improve mental health care in frontline NHS services."