Uruguay gets set for its big World Cup moment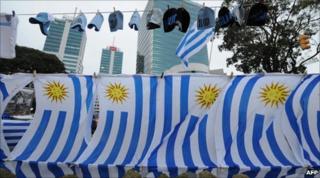 Uruguay is starting to resemble a ghost country as people get ready for the national side's World Cup semi-final in South Africa against the Netherlands.
Almost all of the country's 3.4 million people, at home or at work, are set to follow every moment of the game.
Banks and offices have changed their hours and will close at 1400 local time - 90 minutes before kick-off.
Some of those who could not escape work have been calling for Tuesday to be declared a holiday.
There is an internet site, martesferiado.com, making just such an appeal and several thousand people have joined a group on Facebook urging workers to dare to ask their bosses for the day off.
Some sectors have already decided to stop work, including public transport employees.
Their argument: because so few drivers would turn up anyway, there was no point trying to run a service.
Lack of transport could be a problem if the experience of Uruguay's previous games is anything to go by.
In the run-up to the matches traffic was chaotic, with people rushing to get to where they usually watch the football.
"I've watched all the games in a friend's house. There's six of us and since we beat France none of us is allowed not to be there," Rodrigo Pereira told BBC Mundo.
Thousands will be watching the semi-final on giant screens in the centre of the capital, Montevideo.
Others will be enjoying the game on brand-new - and frankly relatively cheap - widescreen television sets, after an electronics store promised customers a 50% discount if Uruguay reached the semi-finals.
"I am happy for Uruguay and also because the widescreen TV was practically a gift," said Beatriz Beltran, one of the customers who benefited from this promotion.
Luckily for the company, it took out insurance in case it had to pay out.
Win or lose, the euphoria in Uruguay at the team's success so far will guarantee the footballers a homecoming never seen before.
Hundreds of thousands are expected to meet the team at the airport, while the interior and sports ministries are deciding what kind of reception to lay on.
And if Uruguay do reach the final, there is talk of erecting a giant screen in the Estadio Centenario - the stadium where, as every Uruguayan knows, their side became the very first winners of the World Cup in 1930.